So today, we just got a bunch of info regarding the Post Grand Prix content for CTR via the Activision Blog. And, starting today all of it is available in the Pit Stop! Without further ado, let's dive right into it!

1st off, we'll be getting a "Bonus Beenox" pack. Here's the description of what's included in said pack "We want to say a big "thank you" to the fans of the game, so we're giving every player some great bonus content – – time to make a bee-line to the Beenox Pack! All players should have to do is download the update and they will unlock:
· Geary, the robotic clean freak (if you haven't already unlocked)
· Crunch, part cyborg, part Bandicoot (if not already unlocked)
· Beenox-themed skins for Crash, Cortex and Crunch. And, due to popular demand, the first ever Legendary skin for Geary! Finally!
· A Beenox-themed kart
· A Beenox-themed paintjob
· A Beenox-themed sticker
· A set of Beenox-themed wheels"

The Grand Prix challenges may be over, but they'll still be hanging around. As the the Daily, Weekly & Monthly Wumpa Challenges will still help you earn Wumpa Coins.

Ghost Hunt from the Spooky GP will return. If you haven't played it yet, well you'll now have your chance to do so. Same goes for the Golden Wumpa Hunt. Both of which operate very similarly, smash crates, collect them to complete challenges & earn coins.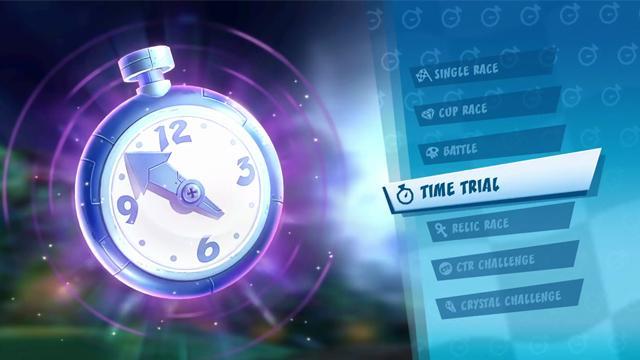 Next up, Time Trials including the previously announced Beenox Developer Time Trials. And here's the description for that "Are you ready to beat the times of Beenox's very best? New ghost times have been added to the Time Trial mode, representing the fastest times from Beenox's development team. Players will literally be able to race to see if they can beat these Beenox times! Beat them all and get a super special set of Legendary Wheels to show off your ultimate CTR skills!" These wheels are called the "Master Wheels according to the BetaM's Datamine.

And for those who missed out on the Championship kart during the GP's, well your in luck. Their also returning but there's a catch.
"Now that the Grand Prix is over, you might be wondering how to unlock the epic Champion Kart if you didn't already. Is it gone forever? Not if you're ready to take on the Oxide and Velo Time Trials!"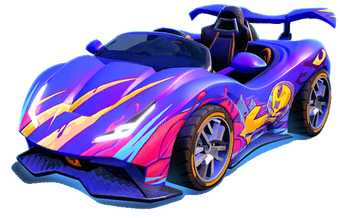 Yeah..soo good luck to whoever wants that kart. And like before, you'll still get 2-additional, signature decals for completing both the Velo & Oxide Time Trials. If you already done so, then all that content unlocks automatically.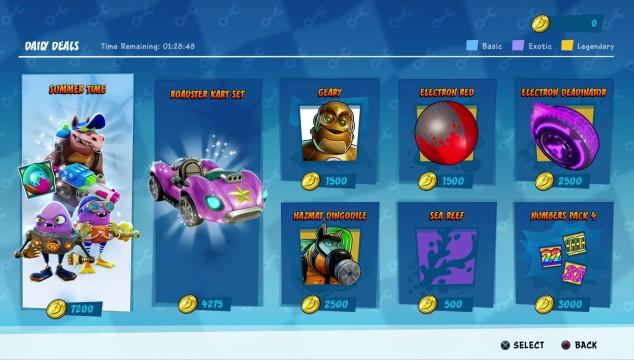 Okay new Pit Stop content is as follows & again, it is available starting today.
3-new character including; Baby N-Tropy, The Lab Assistant & Baby Cortex. Like we seen in the previous datamine.

2-brand new, customizable karts; the Neon Hawk, which is a spin on the Firehawk kart. And the Nitro GT Kart, which seems to be inspired by the traditional CTR karts but also a cross between the Team Bandicoot karts from Nitro Kart.

An assortment of new Legendary skins, calling it now it'll be another Coco skin. As well as new color variations for existing Legendary Skins. And new assortments of customization options for the karts.

Speaking of the Pit Stop, it's gotten some new updates as items from each of the previous GP's are set to reappear in the Pit Stop, so keep checking back if you missed something the 1st time it was available.

A new button prompt will be available in the Pit Stop that will allow you to refresh the contents twice daily, allowing you to get a look at even more items recirculating in a 24-hour period.

We even get a new & improved Rila Roo as well. And it was all due to popular demand. Oh he looks sooo much better now! Here's what the blog post says "Beenox is giving all players who have unlocked Rilla Roo a new "Fixed" version of Rilla Roo; everyone's favorite gorilla-kangaroo hybrid! However, you'll still be able to keep the old version of Rilla Roo, so think of the new Rilla Roo as a bonus character. The "Fixed" Rilla Roo will also appear in the Pit Stop for players who haven't unlocked him yet."
Well, gotta give or take somewhere I guess.

Then we come to….uh..what..excuse me!? Yes, the Iron Checkpoint crate is now an actual playable character. Seriously I'm am Not joking & neither is Beenox. To unlock it, you'll have to find & break each Beenox crate in each track. Basically look for a crate that looks like the one from CTR's intro. (Below video by TealGameMaster)
I know some of you guys were joking about the possibility of the Iron Checkpoint Crate being a playable racer & well there you have it. It's kind of odd yet funny at the same time.
Apparently the crate will have 4-exotic skins Nitro, TNT & others, according to BetM's Datamine. Whether that'll be for this month or not we're unsure. Oh and by the looks of it this is the mystery character that's been teased in numerous datamines. Very, very clever Beenox.

Before I go there's a few more tidbits of info from the Activision Blog Post.
If you try winning the Cup Races on all 3-difficulties, new paint jobs will be unlocked by doing so. And there's a brand new audio feature that'll let you listen to the soundtrack of each track via the options menu when your Not racing.
So what do you guys think of these new post GP's content? Ready to put the metal to the pedal again? Be sure to let me know in the comments below!
And that's about all I got for now, so stay tuned for more video gaming news coming to you at the speed of sound. Don't forget to Like, Comment, Subscribe, Share or Follow for more videos & articles, as I've got more on the way. Until then you can catch me over at these places,
My YouTube Channel:
https://www.youtube.com/channel/UCK8rkBGwt6BvaV3HkQ2cxdg
Backup YouTube Channel:
https://www.youtube.com/channel/UCtY8z6l9Rhmhrr3V3FPPHeA
Facebook:
https://www.facebook.com/BlueknightV2.0Channel/
Sonic Stadium:
https://board.sonicstadium.org/profile/43022-blueknight-v20/
Patreon:
https://www.patreon.com/Blueknightv2
Become a patron for as little as $1 per month can help this site and channel become a next level source for video gaming news
Twitter: