https://blog.activision.com/crash-bandicoot/2020-02/The-Victory-Lap-for-Crash-Team-Racing-Nitro-Fueleds-Grand-Prix
So earlier today, the Beenox Team released a blog post over on Activision's website for CTR:NF. Announcing that the next GP will be the last GP and going over what the past 8-GP's have brought to the game in terms of content.

Which includes over 40-different kart bodies, 40-different tracks, 12-battle arenas, 51-characters, 321-character skins & over 760-million possible kart combinations. I never realized just how much content that this game had until I seen this image.

But despite the sad news that the GP's are ending with the next one, which begins next week. There is some good news though, even though the GP's are coming to an end. New content will continue to be added to the game, how long they'll do this we don't have a clue.

But the new post-GP content will begin to drop shortly after the next & final GP ends. Including new characters, karts, Legendary Skins, Legendary Skin Re-colors, New Decals, New Paint Jobs & a long awaited item that they think fans will be very happy to see. Okay, it's gotta be the Velo Championship kart, it's like the most requested thing that comes to mind.

A new challenge system will also be introduced. This gives any driver the opportunity to master challenges, earn Wumpa Coins & further customize their experience in the Pit Stop. There will be challenges relevant to all game modes. 3-challenge types will remain active; though, Daily, weekly & monthly.

Speaking of the Pit Stop, it will now feature all the content from the previous GP's. Assuming after the last GP ends of course.

Another new feature that's being added are the new developer Time Trials. These are going to even be harder than even Oxide's time trials. As these are the best Time Trials held by the Beenox Team. But if you can beat these trials on all tracks, you will unlock a special reward to let others know that you've got some serious CTR skills.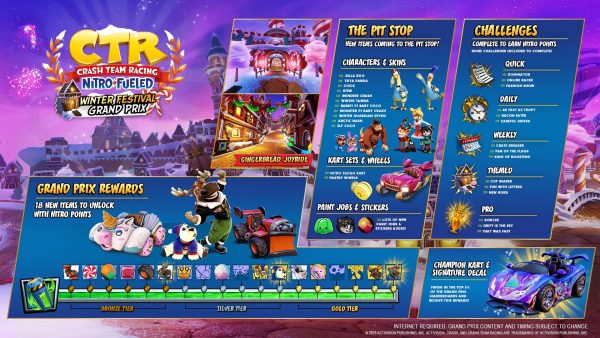 And that's really about it. I mean it's really sad to hear this news as it's been really fun discussing & analysing these GP's with you guys for the past 8-months. To see that sort of come to an end, still kind of sad. But on the bright side, we're still going to get post GP content after the next GP. And I'm very excited to see what's ahead for CTR in the year ahead.
So what do you guys think of this? Sad that the GP's are ending? What do you think we'll see in the Post-GP content?? Be sure to let me know in the comments below!
And that's about all I got for now, so stay tuned for more video gaming news coming to you at the speed of sound. Don't forget to Like, Comment, Subscribe, Share or Follow for more videos & articles, as I've got more on the way. Until then you can catch me over at these places,
My YouTube Channel:
https://www.youtube.com/channel/UCK8rkBGwt6BvaV3HkQ2cxdg
Backup YouTube Channel:
https://www.youtube.com/channel/UCtY8z6l9Rhmhrr3V3FPPHeA
Facebook:
https://www.facebook.com/BlueknightV2.0Channel/
Sonic Stadium:
https://board.sonicstadium.org/profile/43022-blueknight-v20/
Patreon:
https://www.patreon.com/Blueknightv2
Become a patron for as little as $1 per month can help this site and channel become a next level source for video gaming news
Twitter:
Reddit: