Jak X is finally coming to PS4 in physical form via Limited Run Games! Pre-orders for the standard ( $24.99 US, 6,500 copies, expected to ship in December 2019) & collector's editions ( $89.99, 3,500 copies, expected to ship by March 2020) begin next Friday, November 15th at 10AM for EDT for the 1st batch. While the 2nd batch goes up for pre-order at 6PM EDT.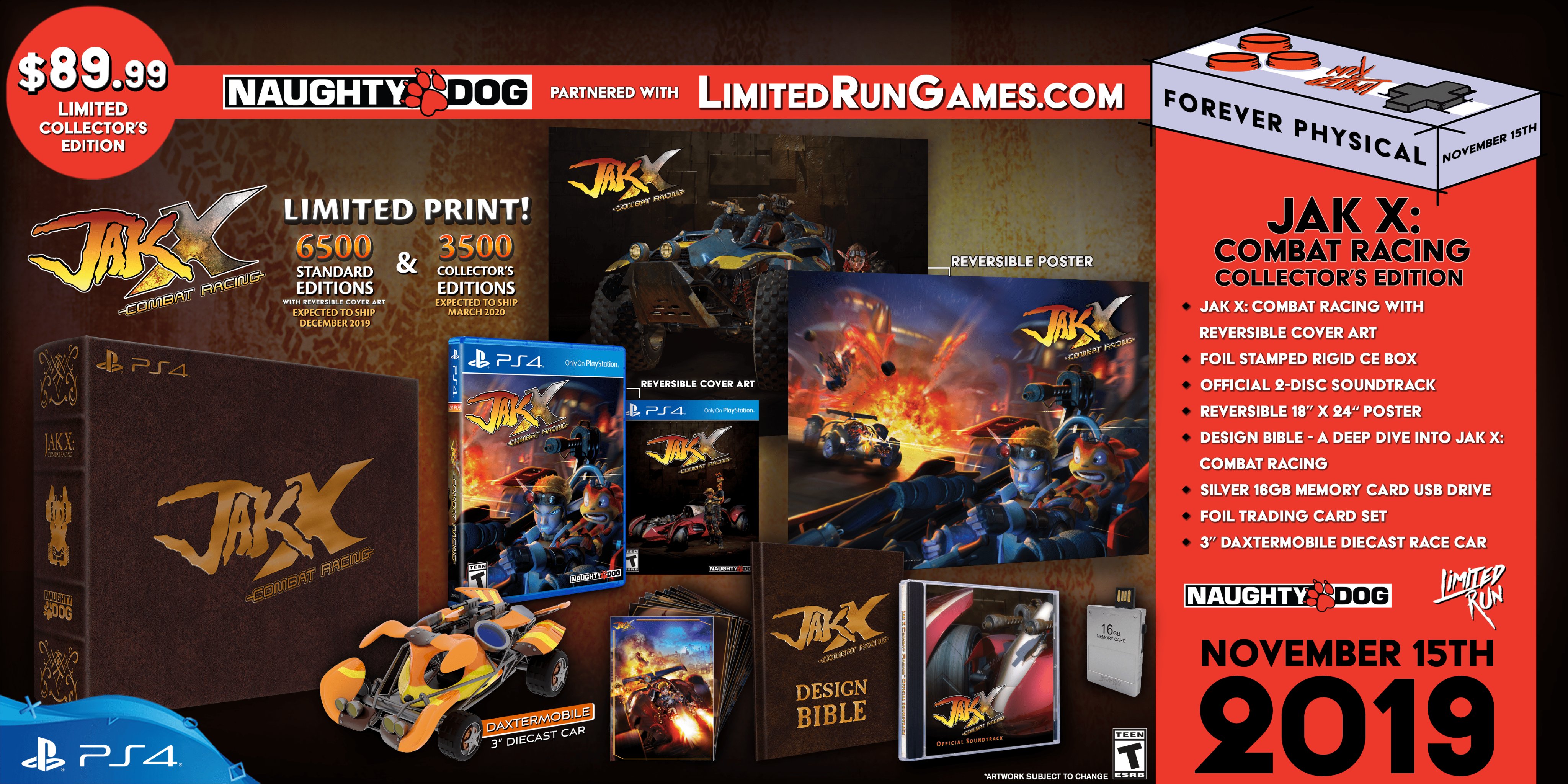 As usual, the collector's edition will have numerous extra goodies to go along with it. Including;
The game with reversible cover art
Foil Stamped, Rigid CE Box
Official 2-Disc Soundtrack
Reversible 18″ x 24″ Poster
Design Book: A Deep Dive Into Jak X: Combat Racing
A Silver 16GB USB Drive Shaped Like a PS2 Memory Card
Foil Trading Card Set
& 3″ Diecast Daxtermobile Race Car
Also a new vinyl soundtrack collection, featuring music from each game of the series. It'll be available next week as well for $34.99 (US). As well as a new poster, however I'm not sure if it's included with the vinyl collection. Both of which by FanGamer.
As for updates on the mock Jak 4 case, so far no details on that just yet. So far it's just for those who purchased all 4-physical versions of the 4-games. Doesn't matter if it was standard or collector's.
So what do you guys think about this? Will you be pre-ordering Jak X physically? Be sure to let me know in the comments below!
And that's about all I got for now, so stay tuned for more video gaming news coming to you at the speed of sound. Don't forget to Like, Comment, Subscribe, Share or Follow for more videos & articles, as I've got more on the way. Until then you can catch me over at these places,
My YouTube Channel:
https://www.youtube.com/channel/UCK8rkBGwt6BvaV3HkQ2cxdg
My Backup YouTube Channel:
https://www.youtube.com/channel/UCU7Rf_HiHSpUFBDgZcM-XZg
Facebook:
https://www.facebook.com/BlueknightV2.0Channel/
Sonic Stadium:
https://board.sonicstadium.org/profile/43022-blueknight-v20/
Patreon:
https://www.patreon.com/Blueknightv2
Become a patron for as little as $1 per month can help this site and channel become a next level source for video gaming news
Twitter:
Reddit: