Alright everyone, we finally got an estimated release date for the Sly Cooper TV Series. Let's get to it.
So after more than a year of almost no news outside of a few Tweets by Vrad Foxhoven and some interviews. We finally have solid details on when the show will premiere. So according to PGS Entertainments website, Season 1 will premiere in October of next year (2019) and the second half of Season 1 airing in July 2020. In addition to this we also got two new images for the show, which I posted above. The top one is I'm assuming the poster for the show, while the 2nd one is similar to the one over on Technicolor Animation's Website. But with a few more tweeks to Bentley's model, featuring his gadgets.
Now does this mean there will be a trailer soon? Well actually I think it does. Now that we know the shows release month it could be easy to pinpoint an estimated time for us to see a trailer. However that may depend on the network they choose for Sly to air on. If they go for Cartoon Network or Nick, then the chances of us seeing a trailer would possibly be at either Paris Games Week or Playstation Experience, as these two events are within the 1-year timeframe of the shows release. Like Sonic Boom, however in Boom's case it was within a 9-month timeframe, from 1st trailer to premiere. Now we could see more info at MipJunior in October. Also since they have release dates for both halves of Season 1, it's likely to assume episodes will be released on a weekly basis. Like Sonic Boom.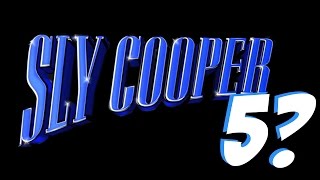 Now where does Sly 5 come in? Now I've discussed this before regarding the show releasing alongside a new game. Since Sanzaru Games has already released Marvel Powers United VR, now there focusing on their secret project. That secret project I'm speculating is Sly Cooper 5, which would release with the show next year. Now as I mentioned above, if the Sly TV show gets a trailer at PSX, then Sly 5 could be announced there as well. I don't know, but this is exciting as we finally got an estimated release for Sly's first TV debut. However the bad news is that we'll have to wait another year to see it, as it releases the month before the release of the Sonic Movie.
This news also lands the show and possibly Sly 5 in the 17th anniversary year for the series. Now that estimate I had for the show to release in the series' 15th or 16th anniversary years is now scrapped off the estimated schedules.
So what do you guys think about all this? Let me know what you guys think in the comments below.
That's about all I got for now, so stay tuned for more video gaming news coming to you at the speed of sound. Don't forget to Like, Comment, Subscribe, Share or Follow for more videos and articles, as I've got more on the way. Until then you can catch me over at these places
YouTube Channel:
https://www.youtube.com/channel/UCK8rkBGwt6BvaV3HkQ2cxdg
Sonic Stadium:
https://board.sonicstadium.org/profile/43022-blue-knightbluestreak/
Patreon:
https://www.patreon.com/Blueknightv2
Become a patron for as little as $1 per month can help this site and channel become a next level source for video gaming news
Twitter: