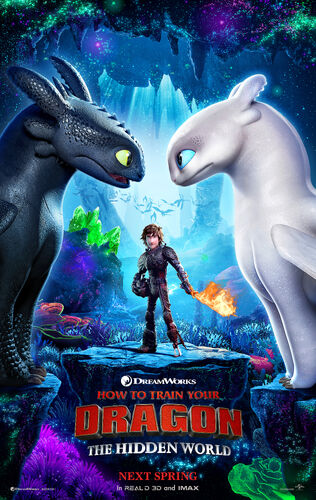 It's been a very long time since I even discussed the How To Train Your Dragon franchise. Now time to get started on the latest news surrounding How To Train Your Dragon The Hidden World, now the name is longer than necessary over the original title. First I'm going to start with this new poster that we got back on May 31st (okay this one slipped through, but I was busy with other posts and videos), this poster is just amazing. It truly captures the tone, feel and wonder of the original films poster. Something the 2nd films poster lacked. Anyways, we also get our first look at another night fury (with some calling it a light fury, which I guess is typical for female night furies).
Now the trailer is expected to release on June 7th, which is this Thursday. Also is the same day as Insomniac Games' new game announcement, but that's for my next post. This trailer is releasing two or three months earlier than I thought it would, usually I go by within eight months of release we get a trailer, which would've been August or September. Looks like I'll have to readjust my guess on the release of the Sonic Movie trailer.
This news also comes just after HTTYD3 appearance at the Licensing Expo a couple of weeks ago. Where we learned that the characters would have been redesigned again for this film.


Now the above photos are from the Licensing Expo and feature the redesigned cast of HTTYD3. Now outside of the characters costumes, there is very little that has changed from the designs of HTTYD2. So it'll be a little easier adjusting to these designs than it was the design jump from HTTYD and HTTYD2.
Here is the latest plot synopsis "From DreamWorks Animation comes the highly anticipated culmination of one of the most popular animated franchises in film history, HOW TO TRAIN YOUR DRAGON: THE HIDDEN WORLD. What began as an unlikely friendship between an adolescent Viking and a fearsome Night Fury dragon has become an epic trilogy spanning their lives. In this next chapter, Hiccup and Toothless will finally discover their true destinies: the village chief as ruler of Berk alongside Astrid, and the dragon as leader of his own kind. As both ascend, the darkest threat they've yet faced—as well as the appearance of a female Night Fury—will test the bonds of their relationship like never before."
Then there are still rumors going around about a new Dreamworks Dragons TV Series, which is yet to be confirmed. But chances are it'll release late next year after the film releases.
One final note is that there could be a new video game releasing alongside this movie like the previous two films and it could be announced at E3 2018. If such a game did get announced then it would need to change things up from the last two games. It would need flying, platforming, combat of different types and giving the ability to play as both dragon and rider. Also a story that closely follows the film.
So what do you guys think are you excited for the final chapter in the series? Let me know in the comments.
How To Train Your Dragon The Hidden World releases on March 1st, 2019.
Once again this is Blueknight and I'll be back with more video gaming news at the speed of sound. You can also find me over on Twitter, Sonic Stadium, YouTube and Patreon where you can become a patron and help support this site with a contribution of just $1 per month. With your help this site can become a leading source for video gaming news. Don't forget to check back regularly for updates, as I'll have more content on the way.
And Don't forget to Like, Comment, Subscribe, Share or Follow for more videos and articles, as I've got more on the way. Until then you can catch me over at these places,
YouTube Channel:
https://www.youtube.com/channel/UCK8rkBGwt6BvaV3HkQ2cxdg
Sonic Stadium:
https://board.sonicstadium.org/profile/43022-blue-knightbluestreak/
Patreon:
https://www.patreon.com/Blueknightv2
Become a patron for as little as $1 per month can help this site and channel become a next level source for video gaming news
Twitter: