Okay there is nothing new as of yet for the Sly Cooper TV Series, but that may change at E3 2018, which starts next month. But I'll get into that later on in the article. The main point of this article is to clearly discuss the Sly Cooper TV Series, what we already know about it and when it may release, now I already did a video on this but didn't touch onto some points that I wanted to. So without further ado, lets get started.
So to start off lets talk about the production and distributing companies. It is distributed by PGS Entertainment, which is also known for it's recent Alvin and the Chipmunks show on Nickelodeon. Now Sony Interactive Entertainment and Technicolor Animation Productions, the former is known for Sega's recent spin-off TV adaptation of Sonic The Hedgehog, Sonic Boom. Interestingly each season of Sly Cooper will share the same run-time and number of episodes per season, which is 52 11-minute episodes. The series will be in full CGI, now I'm sure we might get some 2D animated sequences like the games. It will also be a kids and family series, that kind of debunks those rumors going around that it would be too mature for CN or Nick.
The shows description is as follows "Sly Cooper follows the adventures of an irresistibly charismatic raccoon, a modern-day Robin Hood, who restores justice to his city one theft at a time. Sly is aided by his two best friends, a muscular hippo named Murray and a brainy turtle named Bentley. Hot on Sly's trail is Inspector Carmelita Fox, a morally upright cop with an unfortunate crush on the charming bandit, as well as a band of villains, each one more strange and colorful than the last. Mixing humor, action, and a remarkable cast of characters, Sly Cooper promises to be an unforgettable series." For the most part it sounds alright, I believe it could carry a good story from the games in the 11-minute format its being presented in. As for CG animated comedy series, I'm a bit skeptic on that as Sly's stories usually consist of some darker elements with some comedic moments mixed in throughout the games. As long as it doesn't come out as Sonic Boom, which doesn't seem to be the case as the studio behind it is making sure it doesn't become another Sonic Boom.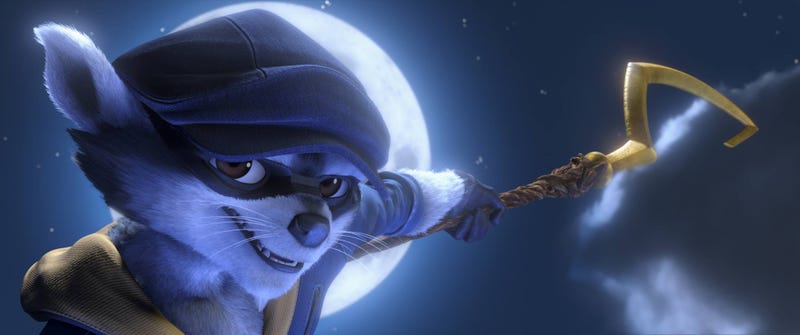 Now another interesting thing is that when you copy this concept art of what appears to be Shanghai, to your desktop the title comes up as "Sly1″. So that tells me season 1 will be based around the first game Sly Cooper and the Thievius Raccoonus. As for character designs in the show, for the most part they look closer to the games than the movie trailer did. Now we still don't know how Carmelita's design is going to be or the other villains for that matter. But overall, they seem to be going for close to the original trilogy designs. One things for sure, they better get Clockwerk right. We still don't know anything about the voice cast yet, but one thing is for certain is that they have to get the original voice cast back or it won't feel right and that brings me to Carmelita's voice. She has had a new voice actor per game, that's four different voice actors, pick one and stick to it already.
There are noticeable differences between the movie trailer and the TV series models. For instance the TV models have a more game-like appearance as opposed to the film like Bentley's glasses, Sly's cane from Sly 4, Murray's mask and shirt etc, etc. This next part is perhaps one of the more interesting parts, Sly Cooper art director, Dev Maden, is I think working on the show or is somehow involved. He worked on the first three games by Sucker Punch, in the interview with Dev Maden he explains and describes the series exactly as it is, so there is a lot more effort put into this than there was with Sonic Boom.
The reason why Sly went from a movie to TV show was for two reasons 1. the box office performance of Ratchet & Clank and 2. they had a lot more stories to tell. Later on down the road the movie will happen, but the series will happen first. Once they get so far into the series and its successful, then we'll see better chances at the movie happening. However, instead of a games story we'll probably get a brand new story instead. But anyways, onto what we may see at E3 2018 next month. Sony is having their E3 press conference on June 11th with MAJOR focus on Insomniac's Spider-Man, Sucker Punch's Ghosts of Tsushima and Naughty Dog's The Last of Us Part 2. Now there will be other games announced there I'm sure, like Sanzaru's secret project, calling it now Sly 5, just kidding at this point the Sly community is very desperate for Sly 5 to end Sly's story and to get him out of Egypt. But since the Sly TV show was not announced at E3 2017 last year, instead it was announced through several articles as E3 was happening. But I think we'll see it at E3 this year, like how Sony showed the Ratchet & Clank movie trailer at E3 2014 while at the same time announcing a new R&C game to release with the movie. Same can go for Sega's Sonic Boom TV show which got a trailer at E3 of the same year.
Okay now for the final part of the article, in this part we'll discuss when the show will possibly release. Now following a pattern of other video game based TV shows like Sonic Boom and Skylanders Academy, both of which were announced about a year before release. The release dates also didn't come until two weeks or a month before hand. But if Sly follows these patterns, then we could get a trailer at E3 with a possible release date for July, I could be wrong on that. So that's why my estimates are for July-November, but another reasonable probability the show will release in September as it is Sly's anniversary month, marking 16 years since the Sly series started. Now on one other note is that there will be merchandise being released for the show, like the Sly Cooper plushie for instance, that I think is on pre-order, not sure on that one.
Well guys, this is the end of the discussion, I'll try my best to cover what I can when or if something about the series gets announced/shown at E3 2018. Also anything else that comes out of E3 2018. So be sure to like, follow, comment for more articles and news from the world of video games, delivered to you at the speed of sound. You can also find me over on Twitter, YouTube, Sonic Stadium and Patreon if you wish to contribute as much as $1 per month to help my site and YouTube channel grow into a leading source for video gaming news. And Don't forget to Like, Comment, Subscribe, Share or Follow for more videos and articles, as I've got more on the way. Until then you can catch me over at these places,
YouTube Channel:
https://www.youtube.com/channel/UCK8rkBGwt6BvaV3HkQ2cxdg
Sonic Stadium:
https://board.sonicstadium.org/profile/43022-blue-knightbluestreak/
Patreon:
https://www.patreon.com/Blueknightv2
Become a patron for as little as $1 per month can help this site and channel become a next level source for video gaming news
Twitter: