Another year of news has begun, so once again it's time to jump into another news roundup.
First up is the news that Sega is bringing back the Official Sonic The Hedgehog Panel at SXSW 2018. Sega has already done this for the past two years for the Sonic series, as kind of a marketing campaign for Sonic Forces and Sonic Mania. Now this year seems to be representing something different, the next step in the series. The panel description at the SXSW website reads "Sonic is back, and ready to take 2018 by storm. Join the official team from SEGA who are building Sonic's future as they give you an update on last year's strong performance of Sonic Mania and Sonic Forces, as well as the world-exclusive first look at what comes next for the fastest blue hedgehog. Speakers include Sonic Team head Takashi Iizuka, Sonic PD Director Austin Keys, Sonic Mania Animation Director Tyson Hesse, and Sonic Social Media Manager Aaron Webber. You won't want to miss this!" Now "World Exclusive First Look" is what got my attention, as this term has never been used anywhere else in the series. Now world exclusive first look, tells me it's about the Sonic Movie releasing next year, because no one has seen any footage or anything regarding the Sonic Movie, so it's likely it will get a trailer, release date, voice cast and maybe a new Sonic game for the movie at SXSW.
Really the only things they could really talk about at SXSW would be the Sonic IDW comics, Sonic 2019 movie, Sonic Boom Season 3 or a couple of new Sonic games to be released in 2019, alongside the movie. The panel takes place on March 16th from 3:30PM -4:30PM and it's name is the same as last years. As for the IDW Sonic comics, solicitations are already out and they seem to continue Sonic Forces' story.
The Sly Cooper TV Series news has been pretty quiet since it's announcement in June, but the silence will seem to be broken next month. According to CEO of Blockade Entertainment, Brad Foxhoven, has stated in a couple of recent Tweets on Twitter that they are currently working on the networks for the different airing regions. In addition to networks, according to Foxhoven, both the networks and the new information about the show will be released in about a month or so, which at the time of the Tweets is about Mid-February-Early-March. Also recently the President of PGS Entertainment, which is the distributor of the Sly Cooper TV Show, released a post on LinkedIn talking about the currently released shows as well as the companies future shows including Sly Cooper and here is what's posted under Sly,
"The Introduction of a New TV Hero!
We unveiled one of the most talked-about series of the year, Sly Cooper, a product of our exciting new partnership with Sony PlayStation and Technicolor. A sensational new franchise, Sly Cooper has already seen its first script receive 5 stars from leading pre-buyers across the world."
Now Sly Cooper already is in Pre-production (unless they already moved out of that), was the 11th most screened show at MIPCOM/Junior and now the script is already getting a perfect score of five stars. Now the script and the screenings I believe to be related to the pilot episode (or season premiere), also stating it as the most talked about show of the year, now that's impressive for Sly. Now another thing to, Sanzaru Games is working on a secret project, now this secret project could be Sly 5 to release alongside the TV show. The show and Sanzaru's secret project both have unknown release dates, but seems very reasonable that both will release this year. Why do I think this year, is because in the PGS LinkedIn post they talk about the year ahead (meaning the rest of year), and Sly Cooper is on the list, also if Sanzaru's unknown project is Sly 5 then it will no doubt be announced at E3 2018 with a trailer and release date. It makes sense when looking at other recent video game media releases with games releasing alongside or close to the movie/tv release (Sonic Boom Season 1/Rise of Lyric and Shattered Crystal, Sonic Boom Season 2/ Fire & Ice, Ratchet & Clank Movie/PS4, Skylanders Academy/ Skylanders Imaginators, etc.).
Jurassic World Fallen Kingdom, is no doubt going to be one of the biggest films this year above Marvel's Avengers Infinity War. Now as everyone knows the Jurassic movies always involved people being chased by dinosaurs, this time around you can expect the same thing a new twist, their wanting to save the same animals that tried to eat them every time anybody ventures to the island. On top of that, how is it nobody knew there was a volcano on Isla Nublar since Jurassic Park, now this Jurassic movie has a spanish horror film director in charge to make the film darker and more scary than previous film. Of course it wouldn't be a Jurassic movie without Steven Spielberg who is returning to executive produce. Now Jurassic World Fallen Kingdom is the 2nd chapter in the Jurassic World Trilogy and will set up the 3rd film, however will not end on a cliffhanger. Now as to plot, it is very interesting, here is the synopsis "After the demise of the Jurassic World theme park on Isla Nublar, the dinosaurs roam freely on the island for four years until a volcanic eruption threatens their existence. Claire Dearing (Bryce Dallas Howard), the former park manager, has now founded the Dinosaur Protection Group, an organization dedicated to saving the dinosaurs. She recruits Owen Grady (Chris Pratt), a former dinosaur trainer who worked at the park, to help her rescue the remaining dinosaurs from the island. Owen also attempts to locate Blue, the last remaining of the four raptors he trained, but he and Claire discover a conspiracy that could result in dinosaurs becoming the Earth's dominant species once again."
Okay the description changed a little bit since I last read it, last time it said a conspiracy that would endanger both humans and dinosaurs, this part of the description was changed to the one above. Now that is kind of cryptic, but interesting that a Jurassic movie is going into a deeper story than any other film in the series. This could have something to do with the Indoraptor rumor that I keep hearing about and actually some legitimate evidence that points toward that. In some apparently leaked Lego Jurassic World Fallen Kingdom sets, there sets with a Pachycephalosaurus hybrid, a carnotaurus (this one could be legit because there is one in the trailer), T-Rex, Raptor (again both in trailer) and finally a new mysterious, big and black dinosaur could this be the Indoraptor, also lets not forget that teaser poster that Universal released a while back with what look like an Indominus Rex.
As for the dinosaurs, there are going to be more dinosaurs in this Jurassic World than any other Jurassic movie. There's the Carnotaurus, Baryonix, Brachiosaurus, Pterasaur, T-Rex, Velociraptor and more including the Indoraptor. Also there is a returning character, Dr. Ian Malcolm, the main character in the 2nd Jurassic Park film is returning to Jurassic World Fallen Kingdom, however his role in the film is small compared to the previous Jurassic Park films he appeared in. Jurassic World Fallen Kingdom's next trailer should release with the Super Bowl in February, the film itself releases June 22nd.
Wreck-It Ralph 2 releases in November, there is no trailer or any word that Sonic might appear again. Before the announcement of the Sonic movie in 2014, we had Disney's Wreck-It Ralph, which brought Sonic, as well as his arch-enemy, Dr. Eggman to the big screen for the first time. However, their appearances were limited to cameos with no part in the actual story. Anyways Wreck-It Ralph 2 releases later this year, we do have the plot synopsis "Ralph Breaks the Internet: Wreck-It Ralph 2 leaves Litwak's video arcade behind, venturing into the uncharted, expansive and thrilling world of the internet – which may or may not survive Ralph's wrecking. Video game bad guy Ralph and fellow misfit Vanellope von Schweetz must risk it all by traveling to the world wide web in search of a replacement part to save Vanellope's video game, Sugar Rush. In way over their heads, Ralph and Vanellope rely on the citizen of the internet – the netizens – to help navigate their way, including a website entrepreneur named Yesss, who is the head algorithm and the heart and soul of trend-making site "BuzzTube." Now by the sound of this the Sonic related appearances in the first film, might be cut out entirely in this film, unless however they fit the Sonic characters into the beginning before Ralph enters the web. It would be nice if the 2nd film could have a couple of Sly Cooper, Ratchet & Clank, Crash Bandicoot or even a Spyro the Dragon cameo, or to a lesser extent Banjo-Kazooie.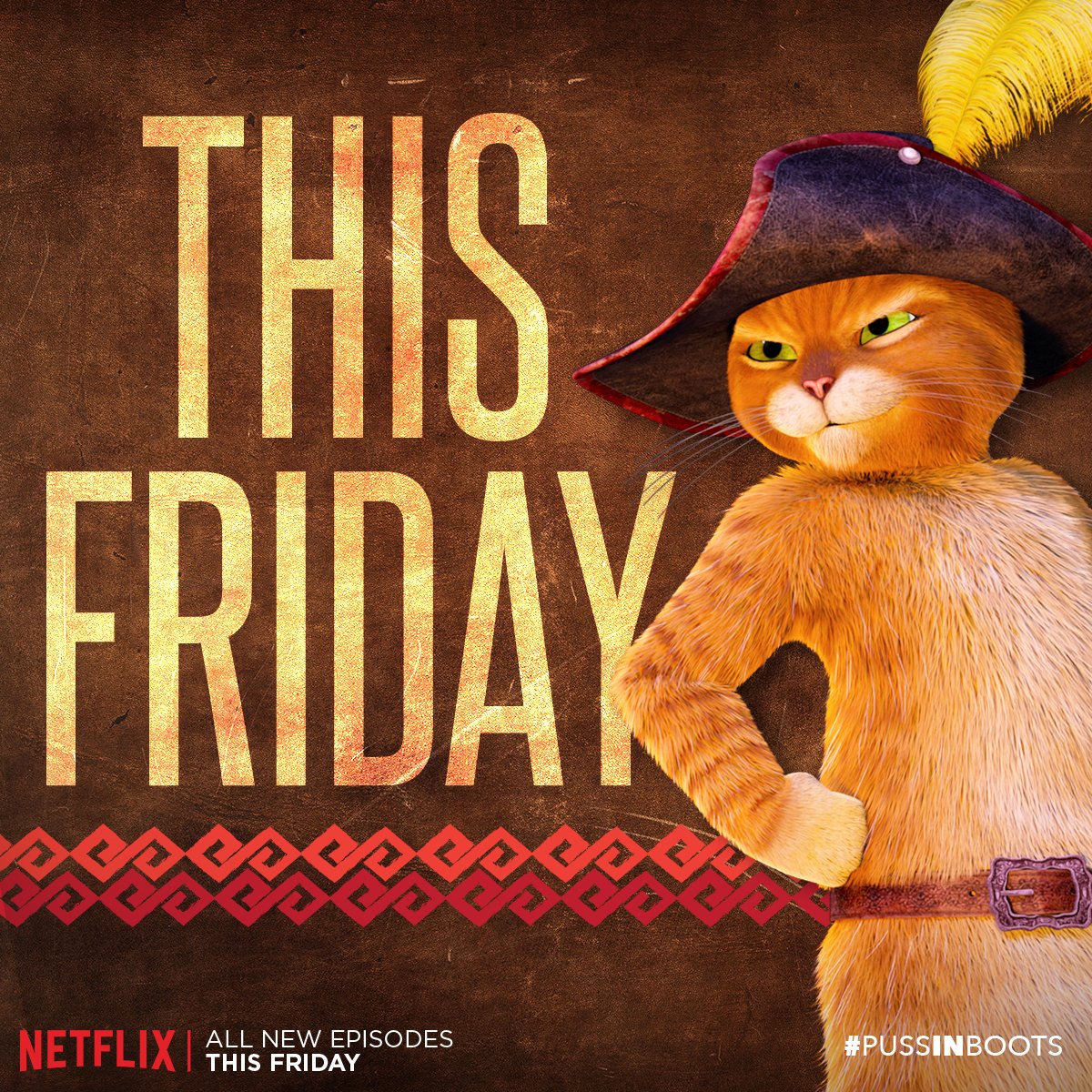 The Adventures of Puss in Boots is ending with it's final season this Friday on Netflix. The season consists of thirteen episodes, like past seasons, also accompanied this announcement is a short teaser and description. "Puss In Boots receives a message: the end of the world is quickly approaching. Will he be able to save San Lorenzo one last time? Find out in all new episodes of The Adventures of Puss In Boots, coming to @Netflix January 26!" I can't post the teaser video here, but it can be found over at Dreamworks Animation's Twitter page. Also coming to an end is Dreamworks Dragons: Race To The Edge with it's 6th and final season streaming on Netflix on February 16th.
Maze Runner : The Death Cure also releases this Friday, it is the third and final installment in the Maze Runner Trilogy. Reviews are starting to come in, for now with early showings the reviews at IMDB are currently 7.2/10 with 1,185 votes, now this is expected to change after the wider release on Friday.
As usual check back soon for updates on Sonic and other media news at the speed of sound. My YouTube channel, Blue Knight Lego Productions will be back up soon (it's actually a new channel, Blueknight V2.0) with news, updates, Lego stop motions and an upcoming SFM Sonic series. As soon as anything develops at the Sonic SXSW 2018 panel or if the Sly Cooper TV show gets any news/trailer gets released it will be right here ASAP. So be sure to like, follow, comment, share or subscribe for more news and updates here and at the YouTube channel.
New Youtube Channel:
https://www.youtube.com/channel/UCK8rkBGwt6BvaV3HkQ2cxdg
Sonic Stadium:
https://board.sonicstadium.org/profile/43022-blue-knightbluestreak/
Patreon:
https://www.patreon.com/Blueknightv2
Twitter: